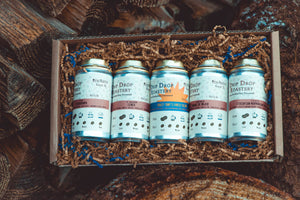 Drip Drop Roastery
Wonderful Work Week
Sale price Price $30.00 Regular price Unit price / per
Want a great way to start your work day? Take a moment to really enjoy your first cup of the day! This pack offers a roasters choice variety from all over the coffee belt regions, as well as a bag of our signature blend, Crazy tony's Family blend. Before you know it, it will be Friday! This is the perfect gift for all your coffee loving friends and family.  Includes five 3oz cans.
Why we love it: The pack is perfect if you want to sample some coffees, but not the full 7 pack. We love this pack to bring a ray of sunshine on our gloomy work weeks. 
Family Story: Here at Drip Drop Roastery we try to start our morning with different roasts and origins each day. This is a great way for us to sample and get to know all of the coffees we offer so we can answer your questions about them. This gave us a great idea, let our customers do the same thing! These 100% recyclable cans are resealable and super unique! Become a coffee expert along with us!
Elevation: 1000m-2000m
Tasting Notes: Various