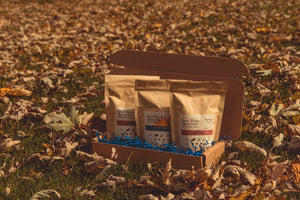 Drip Drop Roastery
Roaster's Choice 3 Pack
Sale price Price $25.00 Regular price Unit price / per
This gift box is perfect for any coffee lover -- it contains two seasonal single-origin coffees and our Crazy Tony's Family Blend.
Why we love the Crazy Tony Family Blend:  It's sweetness and balance makes this blend the perfect coffee to please a wide variety of drinkers year-round.  Tasting Notes: Bittersweet Chocolate, Toasted Marshmallow, Candied Orange, Praline.  Totally delicious with a capital "T"...  :-). 
If you have a specific coffee selection, please place it in the notes and we will do our best to include it for you!